Kuvaus
The Sock – #KeepYourSockOn
This is a preview of the harness, come back soon for more!
The specifications for The Sock were as long as top model legs but we wanted a harness as simple as flip-flops.
Sticking to our philosophy, The Sock is light, comfy and robust. An everyday pod harness that will take you from your all-day long XC, hike-and-fly training, XC competition to your Bivy project. The Sock is a versatile product offering the most efficient feel in the smallest packed volume.
The pod harness that fits
– The sock-fit-concept: tight everywhere around you, but seamless, no pressure point, no blisters.
– Light and robust materials for everyday, every terrain use.
– Stability when you need it, authority when you want it.
– High efficiency air pillow, inflatable back protector (from thighs to upper lumbar area).
– Super simple and safe 4 point clip-in system.
– Stiff and comfortable 3D-shaped back (is your back full flat?).
– Front rescue container with ergonomic handle prehension, shoulder connected risers.
– Large side pockets, huge back container, battery pack mesh sleeve and zipped nose pocket.
– And so much more!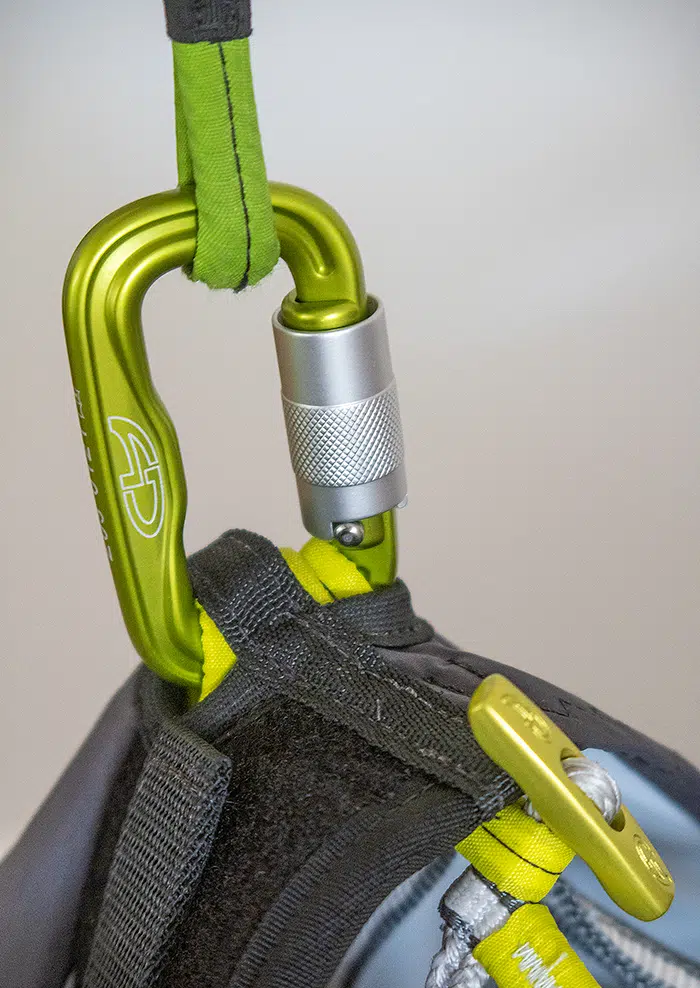 Technical Specifications & Colors
Total Harness
Weight
Pilot
size (cm)
Color
Harness
Certification
Impact Pad
Certification
The Sock S
2.60 kg
150 – 170
Flame
EN1651 /
NfL 2-565-20
120kg
35 G
The Sock M
2.75 kg
165 – 185
Azur
EN1651 /
NfL 2-565-20
120kg
35 G
The Sock L
2.90 kg
180 – 200
Lime
EN1651 /
NfL 2-565-20
120kg
35 G
The choice of your harness size is important. The chart will help you to choose but we recommend that you try the harness at one of our dealers.

| | 50 kg | 55 kg | 60 kg | 65 kg | 70 kg | 75 kg | 80 kg | 85 kg | 90 kg | 95 kg | 100+ kg* |
| --- | --- | --- | --- | --- | --- | --- | --- | --- | --- | --- | --- |
| 150cm | S | S | S | S | | | | | | | |
| 155cm | S | S | S | S | S | | | | | | |
| 160cm | S | S | S | S | S | S | S/M | | | | |
| 165cm | S | S | S | S | S/M | S/M | M | M | | | |
| 170cm | S | S | S/M | S/M | M | M | M | M | M | | |
| 175cm | | M | M | M | M | M | M | M/L | M/L | L | |
| 180cm | | | M | M | M/L | M/L | M/L | L | L | L | L |
| 185cm | | | | M/L | L | L | L | L | L | L | L |
| 190cm | | | | | L | L | L | L | L | L | L |
| 195cm | | | | | | L | L | L | L | L | L |
| 200cm | | | | | | | L | L | L | L | L |
* Maximum equipped pilot weight 120kg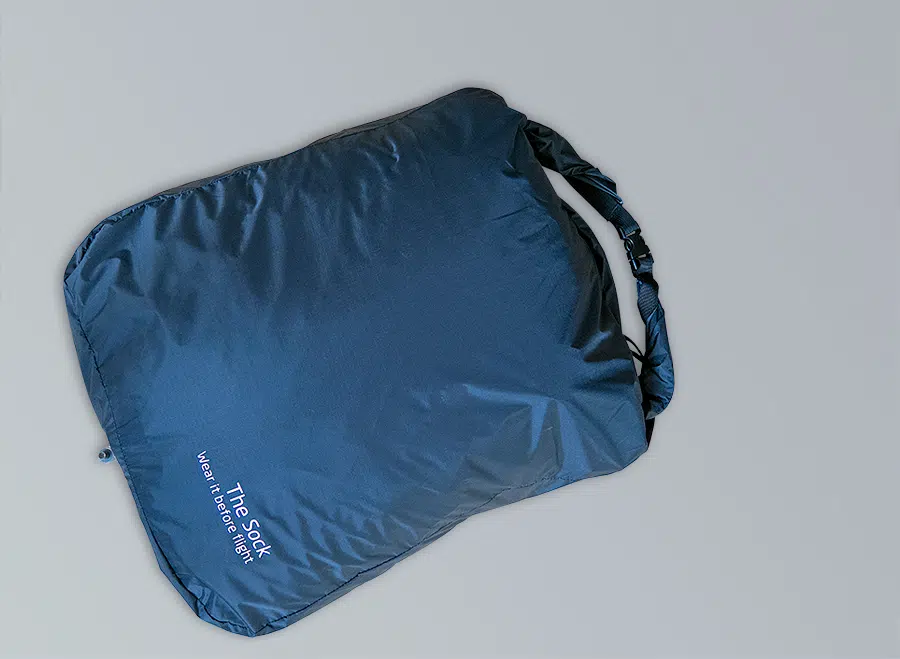 The sock – #KeepYourSockOn package
Delivery
Edelrid Foras Carabiners
Inflatable AirPillow Protector
Superlight Rescue Risers
Inflating / Packing bag
3-Step Speedbar