Kuvaus
KNIGHT 2
Total confidence
In the EN B class, everything comes down to confidence – improved skills only happen when you have complete confidence in your wing. We built the new Knight 2 around this simple premise, and we're confident that you'll understand what we mean as soon as you take to the skies on one. Or, you'll probably start to feel it even earlier, because the launch phase is obviously no less important to ensure that you're as relaxed, as confident as you can possible be once you're airborne. The Knight 2 inspires confidence from the moment you unpack it, and carries that sensation with it into the skies, so you may concentrate on expanding your skillset and your knowledge of the skies. To put it as bluntly as we can, we wanted to take the insecurities out of the equation for up-and-coming pilots, and we believe we have succeeded.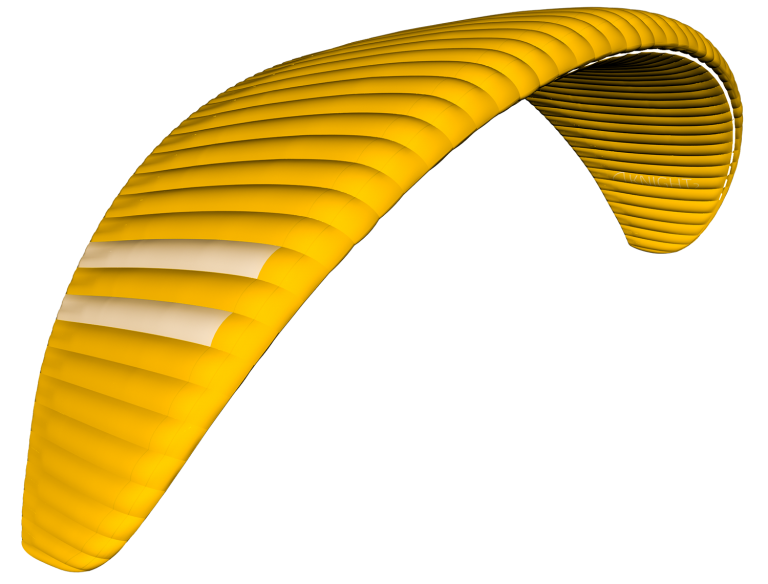 DESIGNER'S NOTE
"The original Knight was built to bridge the gap between the Pawn and Rook series of wings and do it with style. With the new Knight 2, we have stayed true to that ambition, but we have made stepping off from the beginner class even less of a hassle; the Knight 2 is designed to inspire confidence from the word "go". The confidence to free up as much mental capacity as a relatively new pilot needs to have access to in order to achieve their goals, but also the confidence that the wing's performance will not let them down. I personally feel that we have hit the sweet spot 100% with this wing, but you are the judge that matters, and I look forward to your verdict!!
Aljaz Valic, chief designer of the Knight 2
WHO IS IT FOR
The Knight 2 is designed quite specifically for ambitious newcomers to our sport, to make expanding their skills after the first part of the schooling journey is completed easy and stress-free. It has ample performance to take them on long XC flights both over mountains and flatlands, and it has the handling and the ease of use to make every outing into a pure learning experience – seasoned with fun in spades of course, just like any other Triple Seven wing.
Once we had the performance and the passive safety we wanted in the bag, we concentrated on making it very easy and intuitive to fly – after all, performance is nothing without ease-of-use, particularly in this class. We wanted to build a wing that would allow its pilot to concentrate on anything BUT the wing, and we hope you'll agree that we've succeeded.
TECHNICAL DATA AND SIZES
Size
XS
S
MS
ML
L
Number of cells
54
54
54
54
54
Projected area (m2)
18.6
20.3
22.4
23.9
25.1
Flat area (m2)
22.0
24.1
26.5
28.2
29.7
Projected span (m)
8.2
8.8
9.3
9.6
9.8
Flat span (m)
10.4
11.2
11.7
12.1
12.4
Projected Aspect Ratio
4.1
4.1
4.1
4.1
4.1
Flat aspect ratio
5.2
5.2
5.2
5.2
5.2
Glider weight (kg)
4.4
4.7
5.00
5.3
5.5
In-flight weight range (kg)
60-73
70-85
80-95
90-105
100-119
Certification LTF/EN
B
B
B
B
B
test report,
sticker
Line plan
test report,
sticker
Line plan
test report,
sticker
Line plan
test report,
sticker
Line plan
test report,
sticker
Line plan
Latest manual
MANUAL
MANUAL
MANUAL
MANUAL
MANUAL
MATERIALS
CANOPY FABRIC CODE
Upper surface
Porcher Skytex 38
Bottom surface
Porcher Skytex 38
Profiles
Porcher Skytex hard finish 40
Diagonals
Porcher Skytex hard finish 40
Mini ribs
Porcher Skytex hard finish 40
Suspension and main lines
PPSLS Liros, Edelrid A-8000-U
RISER FABRIC CODE
Fabric
13 mm Kevlar-reinforced Nylon webbing
Pulleys
Harken P18mm ball bearing pulley
Maillons
Special delta Maillon rapide
Brake attachment
Magnet clip-in system
MAIN FEATURES
Optimized geometry of suspension lines and materials
EN-B, LTF-B certification
GLIDER PACKAGE
Glider Knight 2
Backpack BOX in desired size (75,110,150)
Inner bag
Glider strap
Triple Seven T-shirt
Repair kit
Welcome card
Brumel hooks