Kuvaus
"We are mountaineers, aren't we?!"
Rise 4 – the wow effect!
It felt so good to have a lightweight backpack while we were walking to our improvised take-off. Christmas time was in the air as we opened up our present: a beautiful new Rise 4 made with love and passion to offer fun and durability. We felt young and beautiful, like in the song! The launch was a formality. Once in the air, the game was on. Whereas we were expecting a long and nice glide, the vario started to friendly sing and opened up our perspectives. We began to play in the light thermals. We were having so much fun and it all felt so natural. The Rise 4 was moving nicely and appeared to be totally reliable above Lake Annecy. The carve was light, smooth and progressive. Pushing the bar put a grin on our faces. What a flight! We had the Rise 4 so we went, and the day just proved us right. AirDesign Rise 4: Break your own rules.
The increase of performance was mainly achieved by a modified profile and refined inner structures.
We added some cells for more profile consistency and chose material optimized to get a light canopy resulting in a low glider weight. Still, passive safety is striking higher than you would expect in this class.
The trailing edge looks optically cleaned by adding a brake-raff system.
The new designed riser has got a B-C control which is effectively working throughout the whole speed range.
We also added to the accelerator RONSTAN ball-bearing pulleys for a soft feeling at the speed bar.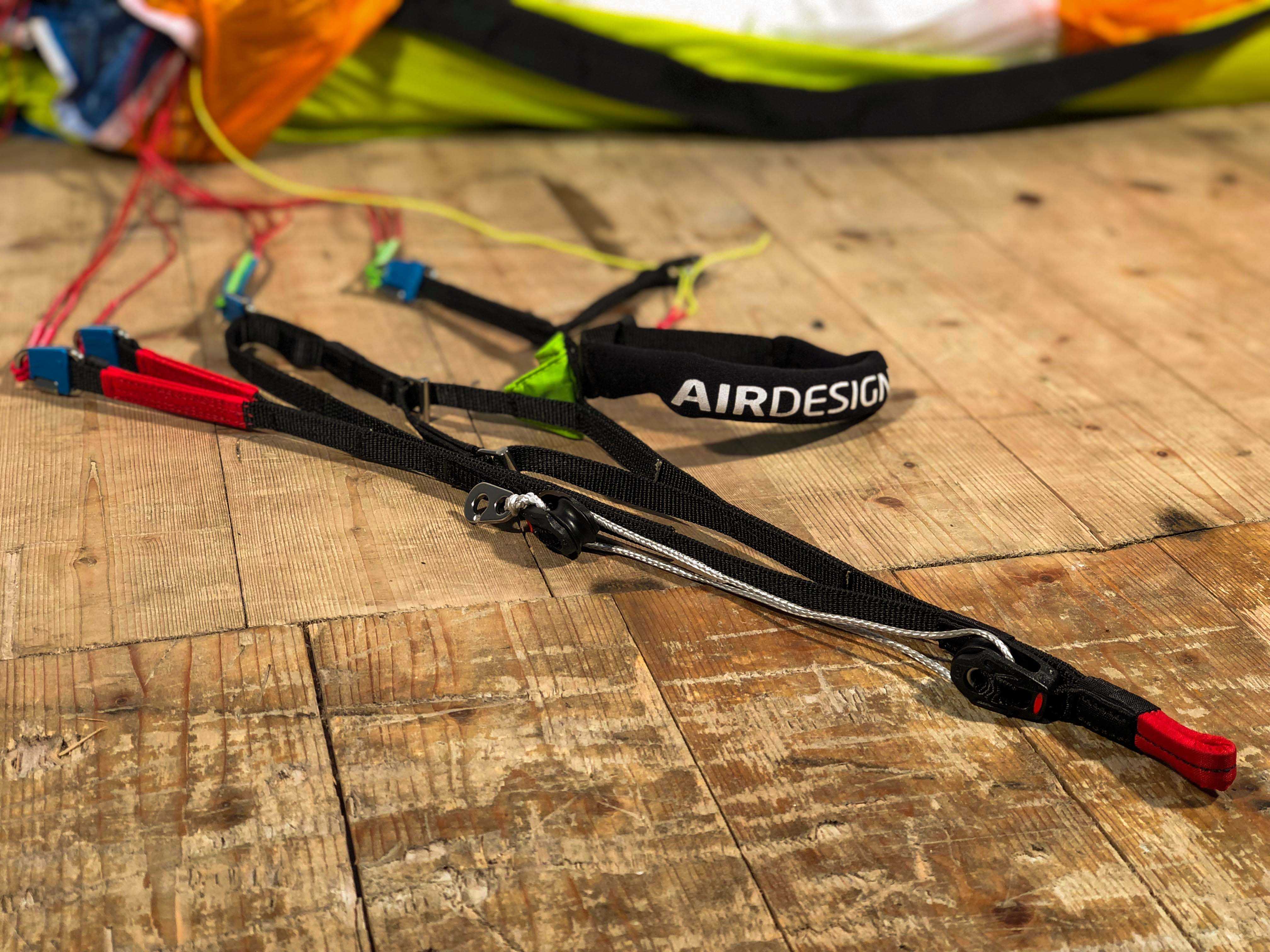 Technical Specifications & Colours

The Rise 4 is a high-end EN-B wing. Nevertheless, we were able to make the flying characteristics well balanced and forgiving. With the Rise 4 you get a really comfortable wing in this kind of class.
Size
XXS
XS
S
M
L
Area flat (m2)
18,77
21,34
23,83
25,91
28,08
Area projected (m2)
15,97
18,16
20,27
22,04
23,89
Span flat (m)
10,54
11,24
11,88
12,39
12,89
Span projected (m)
8,47
9,03
9,54
9,95
10,35
Aspect ratio flat
5,92
Aspect ration projected
4,49
Cells
53
Weight (kg)
3,59
3,90
4,25
4,52
4,75
V-TRIM/V-MAX (km/h)
38/55
38/55
38/55
38/55
38/55
LTF/EN Category
B
B
B
B
B
Start weight (kg)
50-65-72
60-78
72-92
85-105
100-125
* 50-65kg is the standard payload, 65-72kg is an increased payload (both areas EN-B)
Ole yhteydessä ennen tilausta  info@varjoliitokauppa.fi tai soittamalla P. 050-578 4444  sovitellaan sopivasti ja katsotaan oikea koko ja väri.