Kuvaus
EN/LTF-B
More distance, more fun, the Base 2 inspires the confidence to fly further and expand your limits. It's a cross-country wing you'll feel at home on right away – love at first flight!
| | | | | |
| --- | --- | --- | --- | --- |
| 21 | 23 | 25 | 27 | 29 |
| XS | S | M | ML | L |
SPECS
XS
S
M
ML
L
LINEAR SCALING FACTOR
0.92
0.96
1
1.04
1.08
PROJECTED AREA (M²)
17.8
19.5
21.2
22.9
24.6
FLAT AREA (M²)
21
23
25
27
29
GLIDER WEIGHT (KG)
4.5
4.8
5
5.4
5.7
TOTAL LINE LENGTH (M)
222
243
265
285
306
HEIGHT (M)
6.9
7.2
7.5
7.8
7.8
NUMBER OF MAIN LINES (A/B/C)
3/4/3
CELLS
57
FLAT ASPECT RATIO
5.7
PROJECTED ASPECT RATIO
4.4
ROOT CHORD (M)
2.4
2.5
2.6
2.7
2.8
FLAT SPAN (M)
11.1
11.6
12.1
12.6
13
PROJECTED SPAN (M)
8.8
9.2
9.6
10
10.3
TRIM SPEED (KM/H)
39
TOP SPEED (KM/H)
54
55
55
55
55
MIN SINK (M/S)
1
BEST GLIDE
10.5
WEIGHT RANGE (KG)
55-75
65-85
75-95
88-108
100-125
CERTIFICATION
EN/LTF-B*
EN/LTF-B*
EN/LTF-B
EN/LTF-B*
EN/LTF-B*
* pending certification
INFO
Crazy about flying and looking for a thermalling, soaring and cross-country partner? Look no further, the Base 2 is a dashing suitor. Its colourful Aztec-inspired attire reflects its fun-loving nature, and it will instantly put you at ease. But don't underestimate its serious side. You won't tame its sporty, competitive streak and it's proud to be top of the class when it comes to speed and performance. The Base 2 will work with you to achieve your shared goals, and then set new ones, expanding your potential while keeping you safe.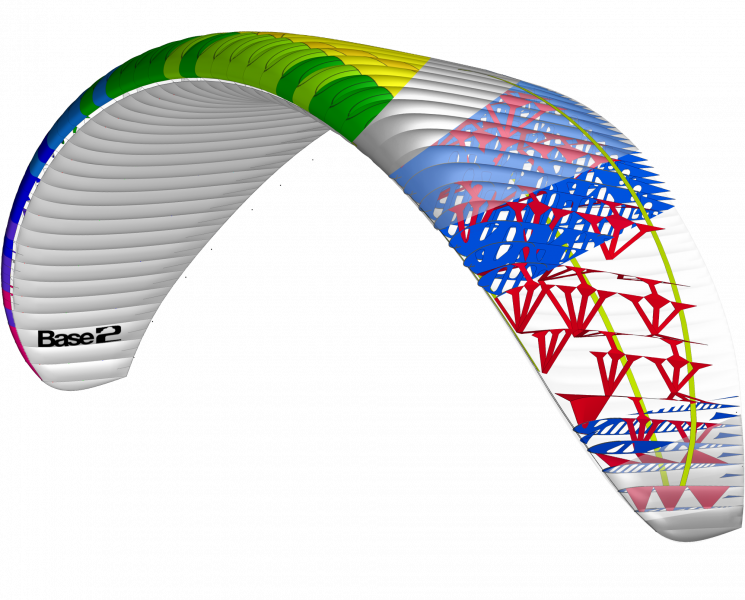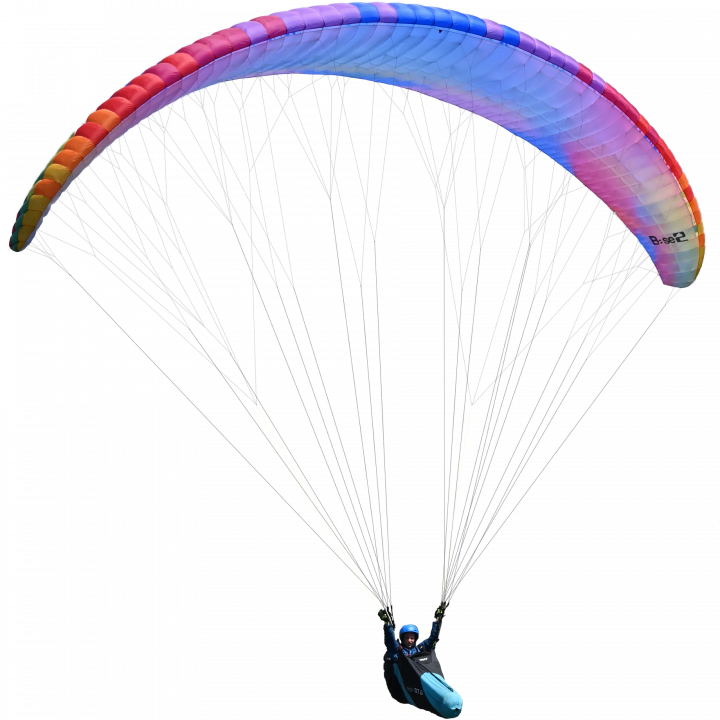 TECH
50 MILLION ITERATIONS FLUID/STRUCTURAL ANALYSIS
The future of glider design depends largely on simulations. Instead of designing and producing prototypes one by one, we can now accurately simulate hundreds of paragliders using our own unique structural/aero simulation program. In effect we are now able to test virtual prototypes using this program, and on our paragliders we make over 200 virtual prototypes and analysing these involved in total 50 million iterations of the structural/aero calculations.
TARGET
The Base 2 is a cross-country paraglider with the perfect balance of performance, handling, comfort and safety. In short, it is utterly confidence inspiring. Its performance will guide you onwards across that tricky crossing and upwards in that weak lift, inspiring further confidence in your own performance. The Base 2 will flatter your flying, and help you get the best out of the day. Its clear feedback about the air and conditions makes it easy to fly actively, and it will respond quickly and precisely to your inputs. It's the perfect partner for XC adventures!
BRUCE'S NOTES
The new arc design and technologies in the Base 2 have allowed us to make big increases in performance, but without losing that all-important direct, playful BGD handling. We've upped the cell count to 57 and increased roll stability, while the sail and line tension are fine-tuned to achieve a perfectly balanced feel in the air.
Many R&D hours have gone into perfecting the smallest details. By developing a new multi-reefing brake system, we've sharpened the brakes in the first part of the range to give precise control with small brake movements, while the overall brake range remains long for safety.
We've remodelled the risers to improve the C-steering, with an additional 'speed riser' that links into the speed system. We've been careful to avoid the pilot hanging from a pulley, which can be an issue for some C-steering designs.
The Base 2 has the double leading-edge design that we used in the Cure 2 which ensures the leading edge stays solid, even when you're on full bar. Cord cut billow panel shaping means a clean, smooth and crease-free top surface. We combined our high-tech airflow simulation software with low-tech tufts and a camera, enabling us to refine the wingtip ribs for optimal aerodynamic performance.
MATERIAL
| | |
| --- | --- |
| TOP SURFACE | Porcher Skytex 38g/m² |
| NOSE REINFORCING | Plastic wire 2,0 / 2,4 / 2,7mm |
| BOTTOM SURFACE | Porcher Eazyfly 40g/m² |
| INTERNAL STRUCTURE | Porcher Skytex hard finish 40g/m² |
| RISERS | 13mm Kevlar / Nylon webbing |
| PULLEYS | Harken / Riley / Sprenger |
| TOP LINES | Edelrid 8000U |
| MIDDLE LINES | Edelrid 8000U |
| LOWER LINES | Liros PPSL |
| BRAKES | Liros DC/DSL |
DOWNLOAD
23-10-2020
While hiking in the mountains a young girl finds a phone that dropped from the sky. Looking at the videos in the phone, she attempts to find the pilot who dropped it.
#FlyBase2
@flybgd
Discover our stunning new high EN/LTF-B!
www.flybgd.com MORE
Ole yhteydessä ennen tilausta  info@varjoliitokauppa.fi tai soittamalla P. 050-578 4444  sovitellaan sopivasti ja katsotaan oikea koko ja väri.