Kuvaus
A King 2 rule them all…
Since the introduction of the Triple Seven King the wing has been widely recognised as the best EN D 3-liner on the market, with performance to match the best 2-liners up to around 50km/h. More impressively, the original King still holds this position today, more than 5 years later. But time doesn't stand still, and neither does the Triple Seven R&D crew – so with a bunch of new ideas and refinements up our sleeves, we decided to introduce the next iteration while the competition is still busy catching up, thus cementing the lead and underscoring Triple Seven's status as THE performance brand.
The new King 2 is more than an update to an existing model – in fact, it has more in common with the Gambit than with the original King – but one thing remains constant; this is a top-performance paraglider with a very confidence-inspiring character, which will allow pilots with less than SkyGod status to excel in everything from ambitious XC flying to national-level competitions. It is very easy to fly, and surprisingly easy to fly well.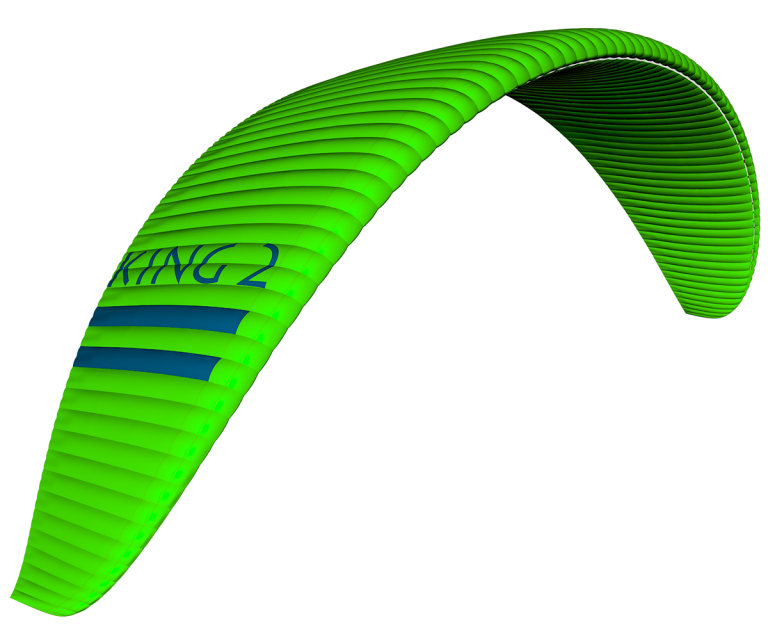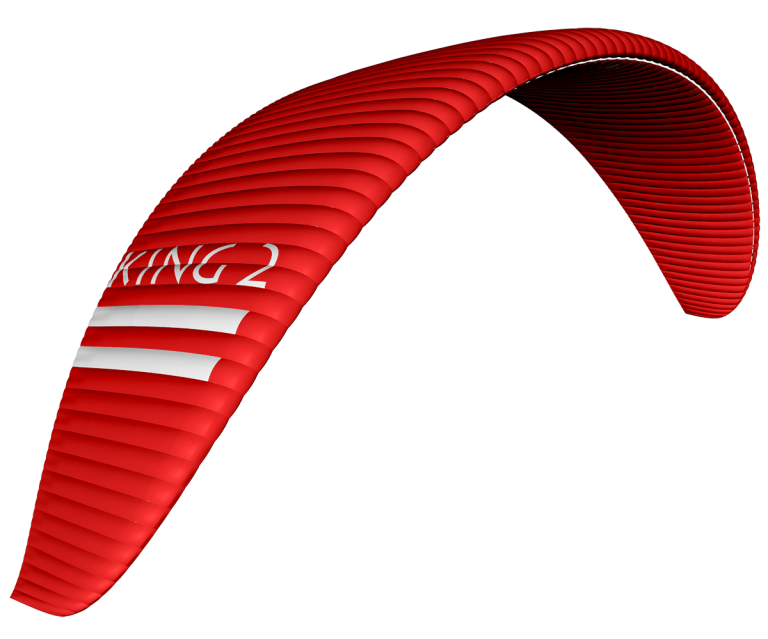 DESIGNER'S THOUGHTS
"When we started discussing the general concept of a King replacement, every option was on the table – we could decide to build a 2-liner like many of our competitors, with the benefits and the drawbacks inherent in this glider concept, or we could continue the King heritage by making a super accessible EN D wing through the incorporation of C-lines once more. In the end, we decided that the latter was the more sensible approach, to ensure that current King owners, and those aspiring to become one, would immediately recognise the breed of the wing above their heads. With the glider that we're introducing today, we're super happy that we chose this direction for our project – our comparative tests have shown its performance to be simply mindboggling, but it flies just like the original King; easy, effortless performance for "everybody" and not just for the ninjas of the skies."
Aljaz Valic
WHO IS THIS GLIDER FOR?
The King 2 is a no-nonsense EN D glider for ambitious XC pilots with a fetish for sexy, beautiful paraglider design. It sports the highest performance of any serial production 3-liner ever made while retaining the docile, forgiving character of its predecessor. This makes it the perfect wing for any pilot looking to get the edge over their contemporaries, sacrificing neither personal safety nor airborne comfort in the bargain. As such it could be seen as the ideal stepping stone towards the CCC class, but this isn't really it's the greatest strength; we predict that a majority of King 2 pilots will not want to increase their workload in the air by moving to more demanding glider classes once they have seen just how well this baby goes.
TECHNICAL DATA AND SIZES
| | | | | |
| --- | --- | --- | --- | --- |
| Size | S | MS | ML | L |
| Number of cells |  88 | 88 | 88 | 88 |
| Projected area (m2) | | 18.4 | | |
| Flat area (m2) | | 21.7 | | |
| Projected span (m) | | 10.0 | | |
| Flat span (m) | | 12.3 | | |
| Projected Aspect Ratio | 5.4 | 5.4 | 5.4 | 5.4 |
| Flat aspect ratio | 6.9 | 6.9 | 6.9 | 6.9 |
| Glider weight (kg) | | 5.8 | | |
| In-flight weight range (kg) | | 80-97 | | |
| Certification LTF/EN | D* | D | D* | D* |
| Test reports | Test report | Test report | Test report | Test report |
| Sticker | Sticker | Sticker | Sticker | Sticker |
| Line datasheet | Data | Data | Data | Data |
| Line plan | Line plan | Line plan | Line plan | Line plan |
| Latest manual | EN | EN | EN | EN |
MATERIALS
CANOPY MATERIALS
Upper surface
Dominico N30 DMF
Bottom surface
Skytex 27
Profiles
Skytex Porcher 40 Hard
Diagonals
Skytex Porcher 40 Hard
Mini ribs
Skytex Porcher 40 Hard
Suspension and main lines
Liros DC PRO (SK 99), Edelrid A-8000-U
RISER MATERIALS
Fabric
13 mm Kevlar-reinforced Nylon webbing
Pulleys
Harken P18mm ball bearing pulley
PACKAGE INCLUDES
Glider King 2
Backpack BOX of your choice (Box 150 advised)
Concertina bag
Triple Seven T-shirt
Repair kit